The 2000s: From dressing up teams to creating signature fashions
The 2000s: From dressing up teams to creating signature fashions
– There was no cycling fashion here.In other European countries, yes, but nobody had taken the plunge here,- says María Jesús. Until then we sold the teams' garments and also some of our own designs, plain jerseys, plain bib shorts, capes, basic garments…. I've always been interested in design. And I thought it was time to create our own collections, our own line of cycling fashion.
Creativity was immense, but the company depended on sales.
– At the beginning that was the problem: we worked a lot on the designs, we created very good garments and that raised the prices. Because it's not just aesthetics: we make bike clothing and we always have to provide a very high technical quality, they have to be comfortable, light, durable, protect you from the cold, the rain, the heat… It's not enough for them to be pretty. We designed garments of a higher level in terms of aesthetics and technique. It was a signature product. We had references of European brands with our own recognisable, prestigious designs, which were logically more expensive but which worked well, because people appreciated them. And we dared.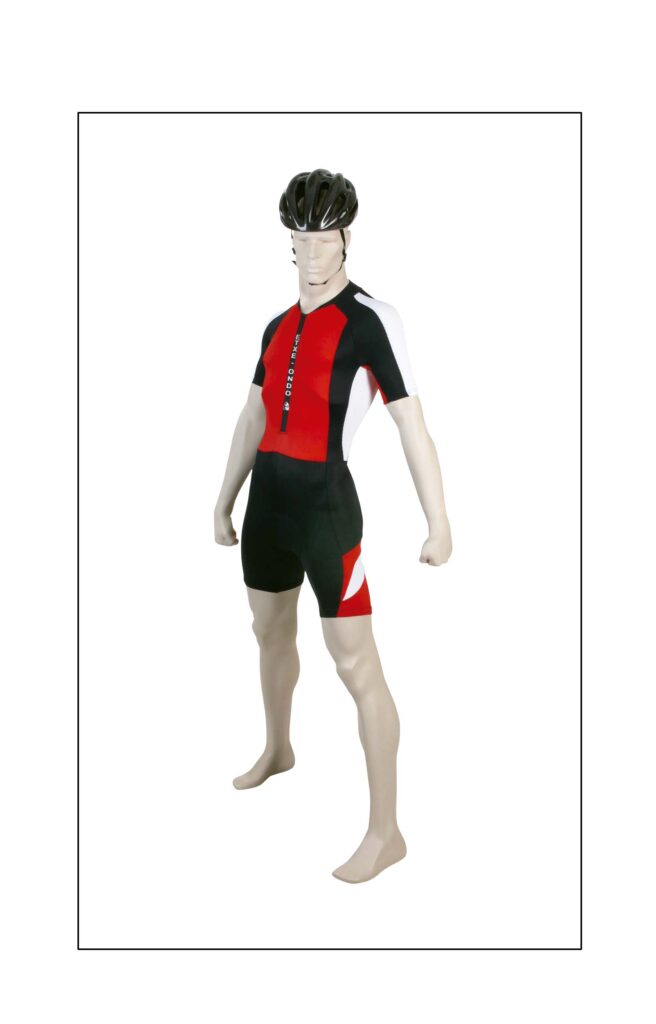 That was the beginning of a commercial battle. Etxeondo had to convince the shops that these slightly more expensive clothes would sell well because they were good and beautiful.
– It worked phenomenally from the beginning- says María Jesús. Because many buyers changed their mentality as soon as we offered them something different. Until then they were satisfied with basic jerseys or with the jersey of some team, the shop was also used to selling that material without getting too complicated, but people immediately appreciated these garments with a better design and quality. It was breathable, thermo-regulated, comfortable, durable clothing, and they realised that it was worth spending a bit more.
Society was changing. More and more people were taking up sport in general, cycling in particular, and wanted better clothes.
– Etxeondo was in a good position to respond to these new needs- says Paco. We had been making clothing for the best cycling teams for many years, and that gave us prestige, an image of trust. We had knowledge of the market, of the suppliers, of the latest advances in fabrics. We adapted the manufacturing structure to produce what we wanted. We had the capacity, we just needed time to think and have clear ideas. So that it wouldn't happen to us like the blacksmith in Quintanapalla.
NEW CYCLING, NEW CLOTHES
The first collections of that time were very sober.
– We design plain-coloured jerseys, with a few little touches like zigzags or some overlays- says María Jesús. I remember a black jersey with a red covering on the collar: that had never been seen before, a black jersey! The commercials were scared: "¡A ver cómo vendemos esto!". Well, it was a great success. We started with a minimalist design.
The collections took some classic Etxeondo garments and evolved them. The Olympic bib shorts, for example, were black, shiny lycra bib shorts, with many cuts, very anatomical, which had been sold successfully since the 80s. The next step was the dynamic bib shorts, which only had two pieces, to avoid seams, and with them, a wide range of colours were introduced: white, red, blue, bib shorts with printed designs…
– Coloured and printed culottes were a big change," says María Jesús. The Italians also made them. And with reflectors and everything. There hasn't been such a daring fashion.
The most notable developments came with the winter collections. Appeared culottes such as the Epel, with a more cottony fabric, but the big breakthrough came with the emergence of goretex. He introduced in Spain this waterproof, breathable, light and resistant fabric, with which they made the garments of the professional teams and then those of their own collections. Later came windstopper, a membrane that protects against the wind. Etxeondo salesmen would test it on shop assistants: They would put on one glove with a windstopper and one without, and shoot a spray of cold air into their hands so they could tell the difference.
At Etxeondo, they closely followed changes in social trends, fashions and the appearance of other types of cycling, in order to respond to new demands without losing their own criteria.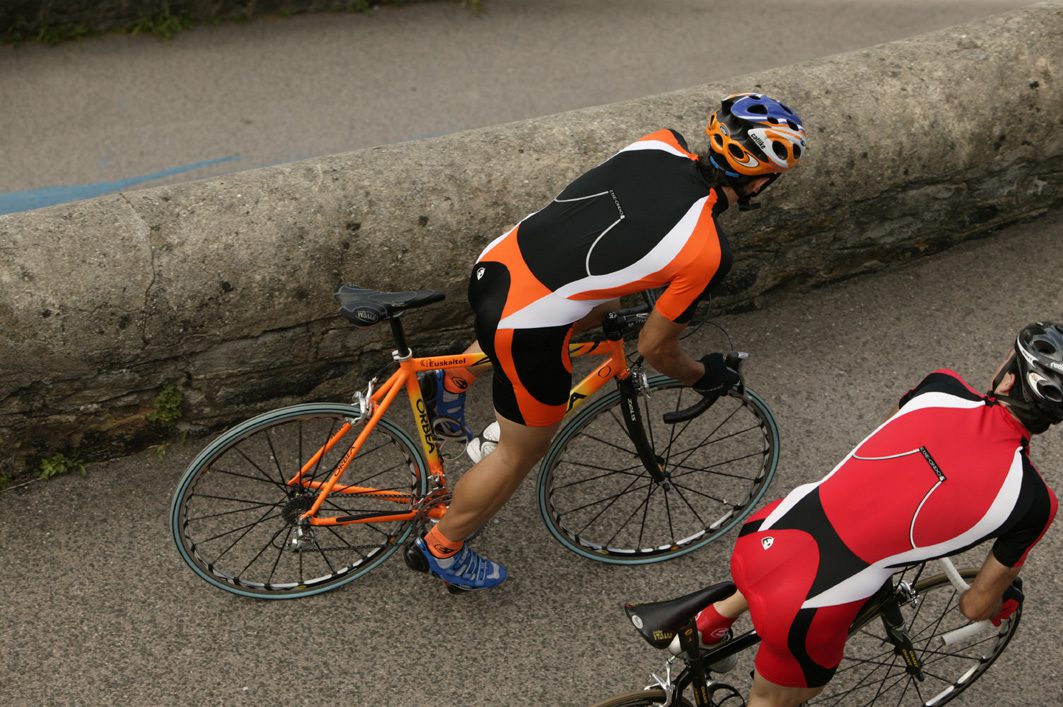 – The mountain bike came along and that was a bit of a revolution- Paco recalls. It came from the United States with a more modern and more daring air than traditional road cycling, and those who rode mountain bikes also wanted to distinguish themselves aesthetically. The bib shorts were supposed to be different, with lots of colours…
– The mountain bike brands designed bib shorts that were like gerrikos, a kind of wide, horrible protective belts- says María Jesús.
– It was a bit of a circus. The four guys who started mountain biking were dressed in carnival costumes- smiles Paco. They were looking for a different aesthetic and we took that into account, we started to add some colours…
– With mountain biking we get our heads in a twist– María Jesús laughs.
-… but I have always been very interested in the market, in knowing the mentality of the buyers, and I saw that I could be the most groundbreaking and the most daring in fashion, but that it didn't make sense because nobody would buy those flashy garments. When it came down to it, those extravagant culottes sold five and we sold fifty. We made designs that didn't expire from one year to the next, they lasted. And there was another very important reason: aesthetics were not enough. We provided a quality that others couldn't achieve. Every season we evolved in technical fabrics, whether goretex or windstopper, we improved the pattern, we made comfortable, light, reliable garments.
– We design our fashion collections, but I insist: in cycling clothing, aesthetics alone is not enough- says María Jesús. We have to improve aesthetics and technical quality every year. And that's what we continue to do today.
– Apareció el mountain bike y eso fue una pequeña revolución -recuerda Paco-. Llegaba de Estados Unidos con un aire más moderno y más atrevido que el ciclismo tradicional de carretera, y los que andaban con las bicis de monte también querían distinguirse estéticamente. Se suponía que los culotes tenían que ser diferentes, con muchos colorines…
– Las marcas de bicis de monte diseñaron unos culotes que eran como gerrikos, una especie de cinturones protectores anchos, horribles -cuenta María Jesús.
– Aquello era un poco circense. Los cuatro que empezaban con la mountain bike iban vestidos de carnaval -sonríe Paco-. Buscaban una estética diferente y eso lo teníamos en cuenta, empezamos a meter colorines…
– Con la mountain bike nos liamos un poco la cabeza -ríe María Jesús.
-… pero a mí siempre me ha interesado mucho el mercado, conocer la mentalidad de los compradores, y yo veía que podía ser el más rompedor y el más arriesgado en la moda, pero que no tenía sentido porque luego esas prendas tan llamativas no las compraba nadie. A la hora de la verdad, aquellos culotes tan extravagantes vendían cinco y nosotros cincuenta. Hacíamos diseños que no caducaban de un año para otro, perduraban. Y había otra razón importantísima: no bastaba con la estética. Nosotros dábamos una calidad que los demás no conseguían. Todas las temporadas evolucionábamos en los tejidos técnicos, que si el goretex, que si el windstopper, mejorábamos el patronaje, hacíamos prendas cómodas, ligeras, fiables.
– Diseñamos nuestras colecciones de moda, pero insisto: en la ropa para la bici no vale solo la estética -dice María Jesús-. Tenemos que mejorar todos los años la estética y la calidad técnica. Y en eso seguimos hasta hoy.
MORE AND MORE CYCLISTS
More and more people were cycling, and it gradually became a widespread hobby beyond competition.
– As a consequence, the diversity of the bodies also increased- says Paco. Not all of them were young competitive cyclists, people from all walks of life were already cycling, and we were working with stretch fabrics to fit a variety of shapes. The curious thing is that now many cyclists and cycle tourists take the utmost care of themselves, they look after their diet, their training, it's almost a professionalisation, and we see that many cycling enthusiasts have the same very slim body type. In any case, all kinds of people are still joining. Electric bikes have encouraged a lot of people to get out there, older people, heavier people, people who wouldn't have dared until very recently. Cycling is becoming more and more widespread and we have to keep an eye on it.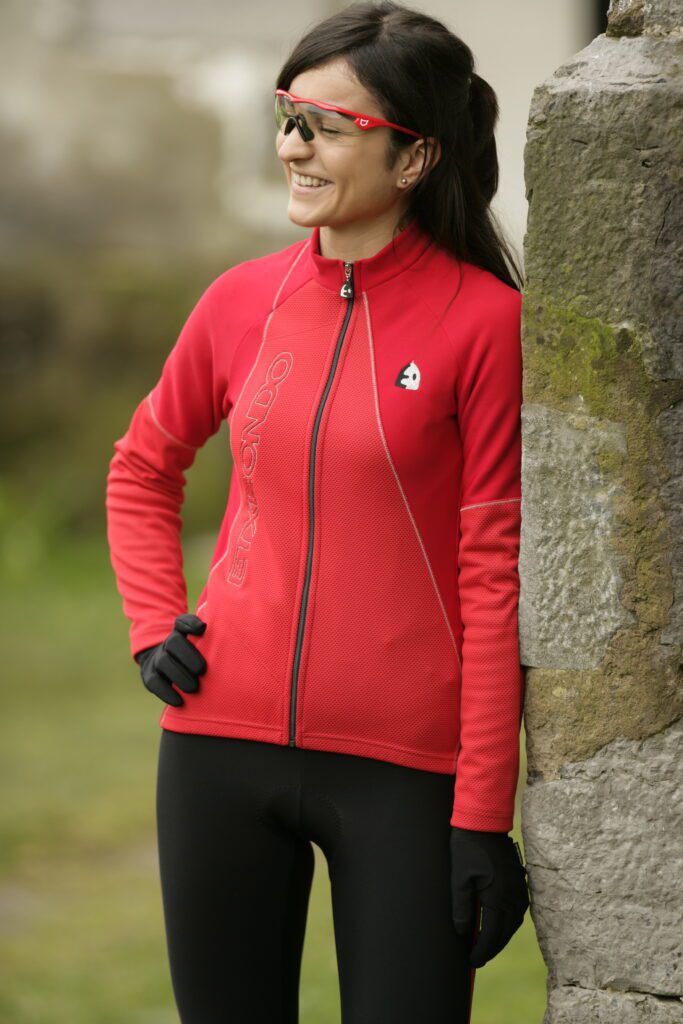 Another notable change is the women's collections. Until a few years ago there were hardly any.
– There were very few women cyclists– says María Jesús. We prepared some collections but they didn't work, they sold very little, because at that time there were four women who competed and that was it, there were no women who cycled just for fun. In the end, these women cyclists had to make do with men's clothing. And men's bikes, men's saddles….
– Women cyclists suffered a lot of physical problems because there were no clothes or equipment designed for them. I'm talking about the women who raced in the Tour, ha? -says Paco.
In recent years, more and more women have been going out cycling, and they have a wide range of bicycles and clothing designed specifically for their characteristics, including the full range of Etxeondo bib shorts, jerseys, jackets and other garments.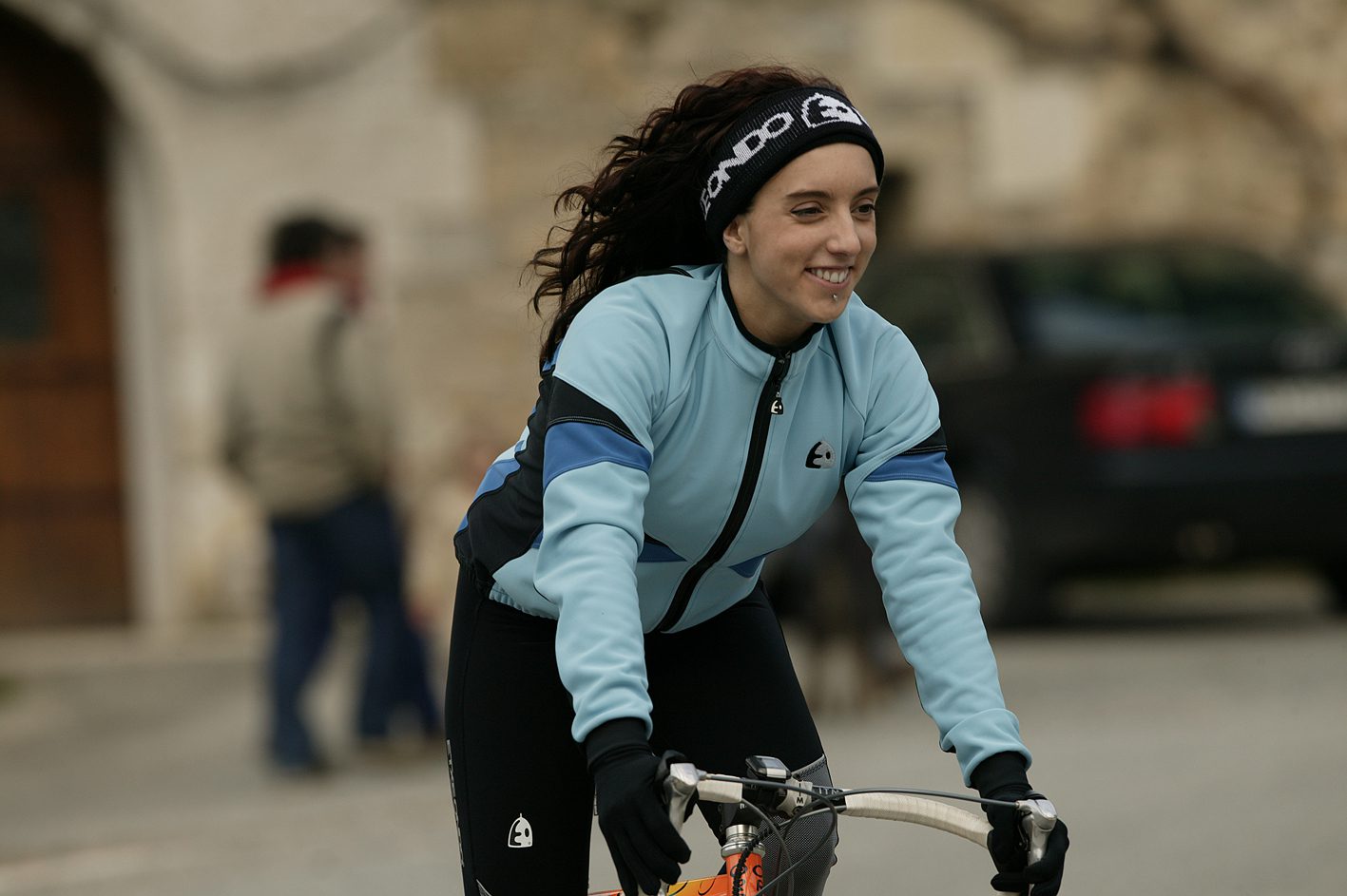 At Etxeondo, they keep a close eye on social changes, fashion, and developments in textile engineering with new materials. But the result (the comfort, lightness, protection, durability of the garments) depends on our own workmanship: the designs, the patterns, the machinery to weave with the utmost precision.
– This is like cooking: you have to have the best raw material, but the key is knowing how to cook it.